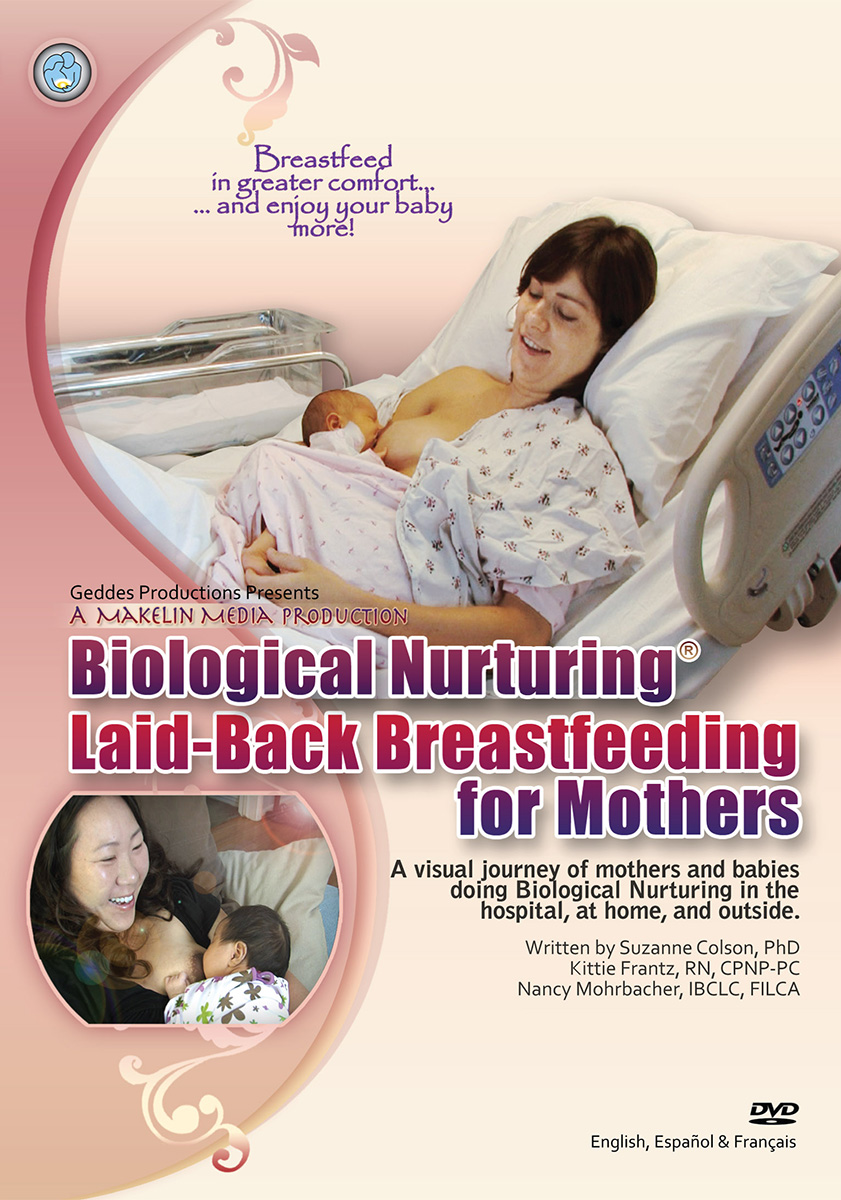 Biological Nurturing® – Laid Back Breastfeeding for Mothers
This 28-minute film with Suzanne Colson, PhD and Kittie Frantz, RN, CPNP-PC introduces laid-back breastfeeding positions that help mothers breastfeed in greater comfort and enjoy their babies more while preventing nipple soreness and attachment problems. Available in English, Spanish and French, you can purchase it as a DVD, digital copy, PowerPoint clips and CCTV license for your hospital.

$25.00 – $200.00Select options
Baby-Led Breastfeeding – The Mother-Baby Dance
In this film with Dr Tina Smillie and Kittie Frantz, RN, CPNP-PC, we see mothers learning to breastfeed naturally...by letting their babies show them how. Babies are already hardwired to seek out and find the breast when we get out of the babies' way.  Watch baby after baby move to the breast and attach asymmetrically to the aureola on their own!  Available in English, Spanish, Italian, Japanese, German, Chinese and Dutch and in many formats; DVD, digital, PowerPoint clips, and CCTV Licensing for Hospitals.

$25.00 – $200.00Select options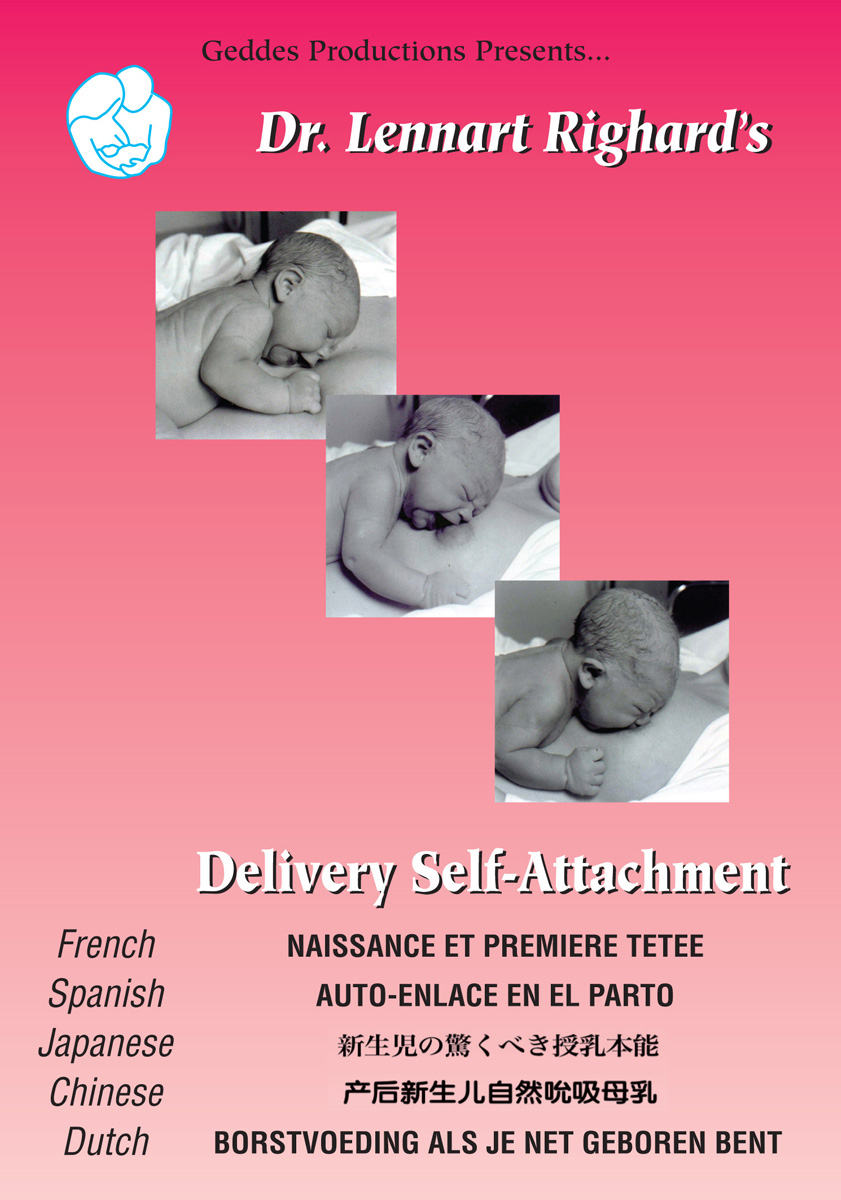 Delivery Self-Attachment
This six minute film by Dr. Lennart Righard and Kittie Frantz, RN, CPNP-PC depicts a newborn's ability at birth to crawl up to a breast and attach himself unassisted. This internationally known film helps prospective parents to evaluate their labor and delivery birth choices because a comparison is made in babies born of medicated and unmedicated labors.  It will change your protocols!  The film is available in English, Spanish, French, Japanese, Chinese and Dutch in, DVD format as well as digital copies, PowerPoint clips, CCTV licensing for hospitals.

$22.95 – $200.00Select options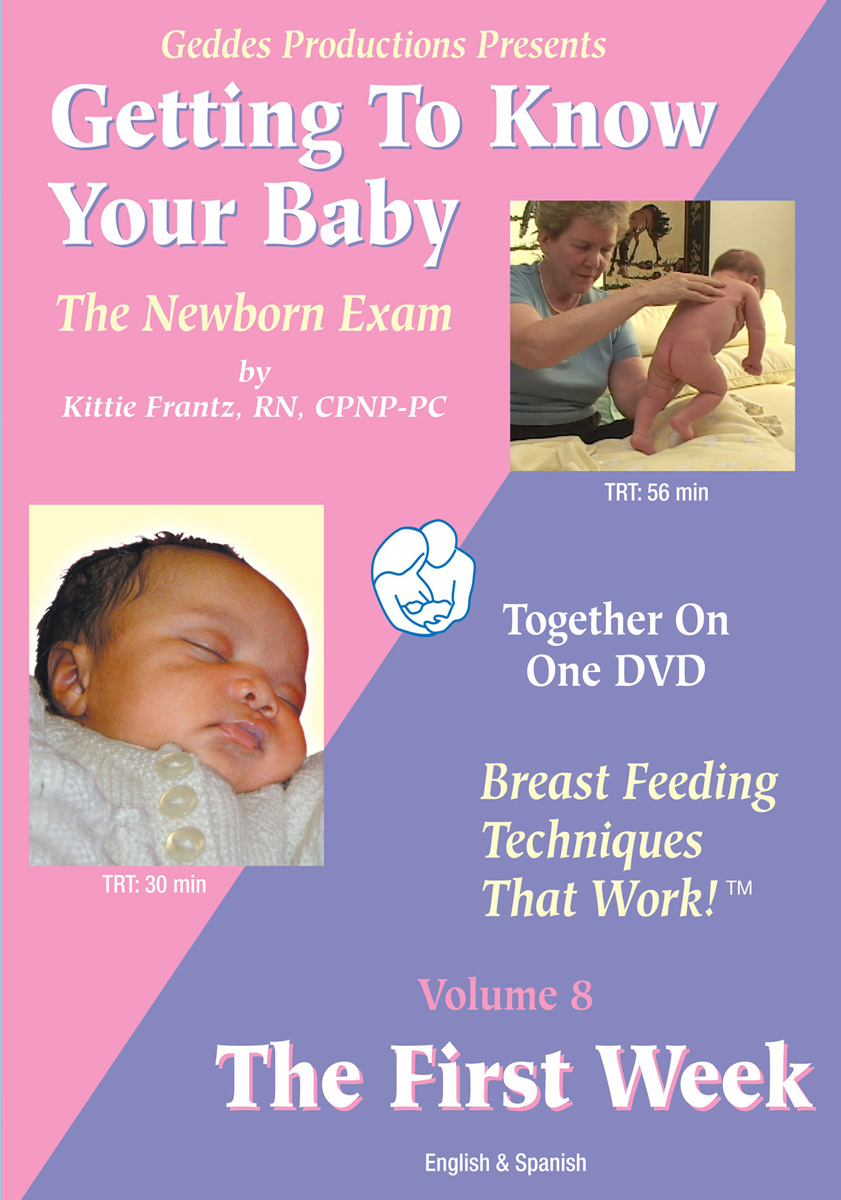 Getting to Know Your Baby and/or The First Week
These two films by Kittie Frantz, RN, CPNP-PC are well designed for parents and professionals to understand the newborn.  The first film, Getting To Know Your Baby, (English only) visualizes for parents what the physician is looking for in the newborn's exam and will fascinate them by answering many questions.  The second film, The First Week, (English and Spanish) is perfect for early discharge programs to reinforce the discharge instructions parents often have trouble remembering or understanding.  Get two films in one physical DVD, Getting to Know Your Baby AND The First Week or individually in other formats; digital, PowerPoint Clips, or CCTV Licensing for Hospitals.

$25.00 – $200.00Select options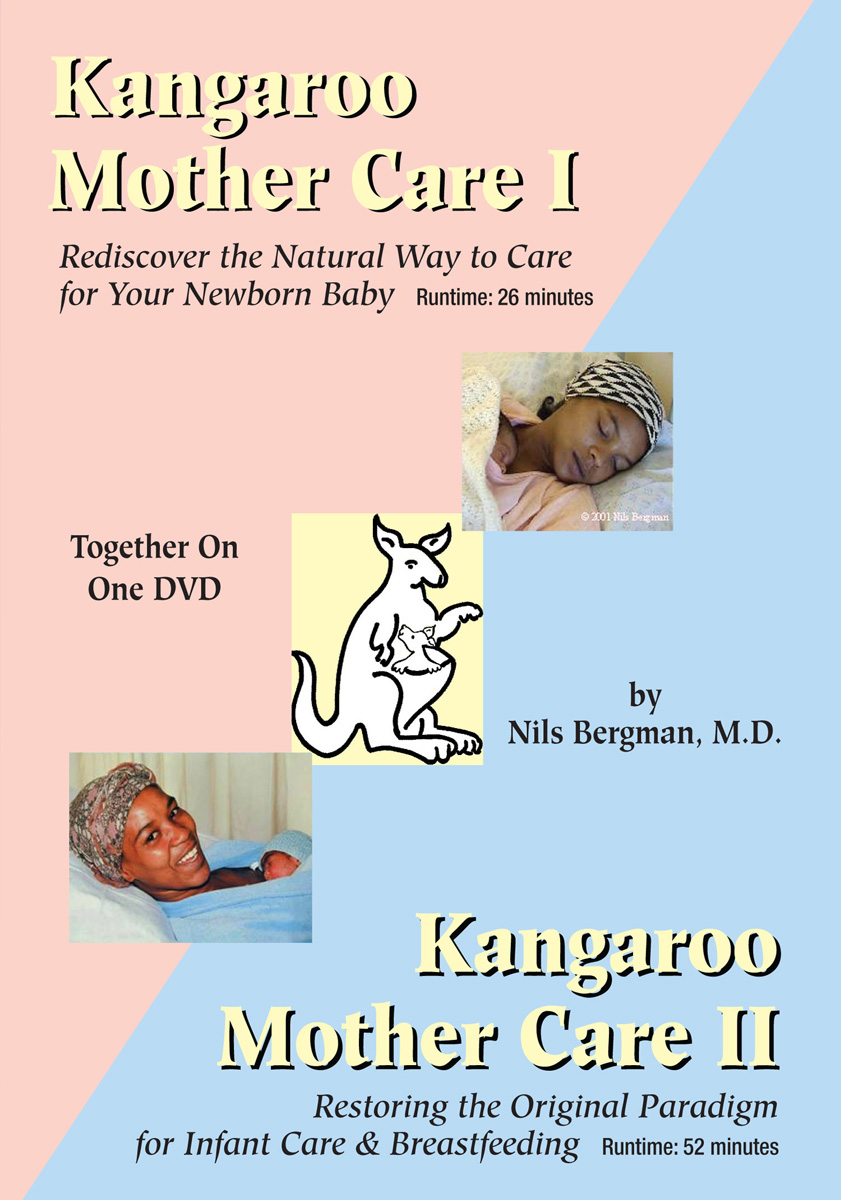 Kangaroo Mother Care I and Kangaroo Mother Care II
Kangaroo Mother Care(KMC) was researched by Dr. Nils Bergman in South Africa predominantly for premature infants. He termed this unique skin to skin wearing of pre-term infants Kangaroo Mother Care due to it's similarity of the baby kangaroo in his mother's pouch. KMC  I :Rediscover the Natural Way to Care for Your Newborn Baby explains the value of skin to skin for pre-term infants and shows how to wrap the baby to parent's chest. KMC II: Restoring the original Paradigm for Infant Care and Breastfeeding is a more comprehensive expanded instruction for health care professionals.  KMC I and II are available in English and together in DVD format only.  Metodo Madre Canguro is the Spanish version of KMC I and sold separately in DVD format.

$15.00 – $200.00Select options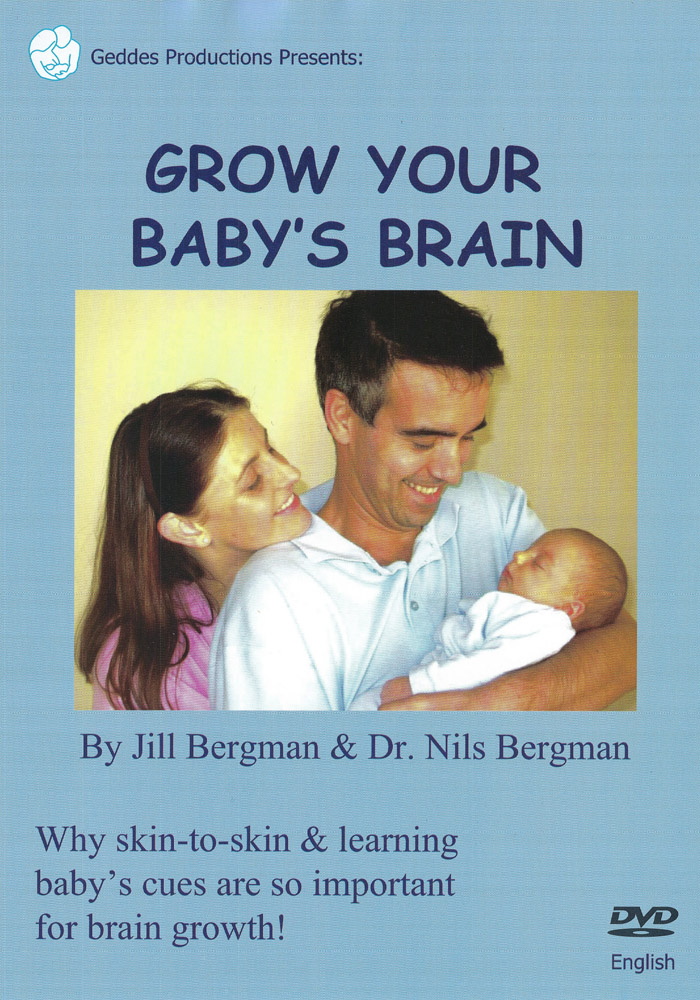 Grow Your Baby's Brain
Jill and Dr. Nils Bergman's film explains why skin-to-skin & learning baby's cues are so important for brain growth! Constant skin to skin contact with the parents contributes to brain development and encourages parents to stay with their little ond in the NICU. Kangaroo Mother Care is for every baby, not just for preterm babies. This film explains the science behind why holding your baby in skin-to-skin contact on Mom's chest is best for all babies, physically, emotionally, mentally and socially. Available in English and Spanish as separate DVD format only.

$5.00 – $200.00Select options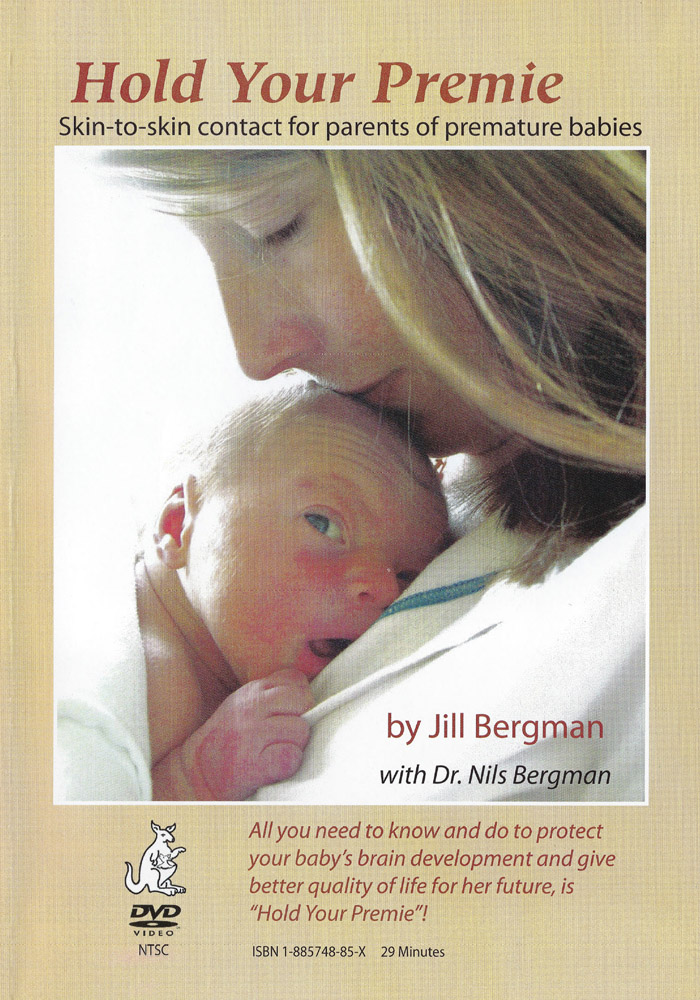 Hold Your Premie
HOLD YOUR PREMIE are the words that every parent of a baby born too early longs to hear! Dr. Nils Bergman's research and earlier films on skin to skin care for professionals has changed the way NICUs facilitate skin-to-skin and breastfeeding. His wife, Jill Bergman, is a chidren's educator and designed a parent friendly version of this scientific information in this film as well as her simple companion book. Together they've made a film that many NICU's use to help parents understand how to do it and why it is important. Available in English.

$15.00 – $200.00Select options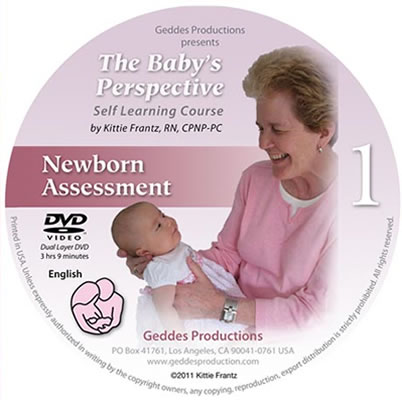 The Baby's Perspective – Newborn Assessment
The Baby's Perspective, a series by Kittie Frantz, RN, CPNP-PC, is an interactive discussion among post discharge care givers meeting mother and baby's needs from the baby's perspective.  In Module One: Newborn Assessment, you will learn how the complete physical exam is done for the newborn showing you what the doctor expects to see and how to reassure the parents; what problems we might see and when to involve the doctor; how to do a complete suckling assessment with x-ray visuals; and how the baby is designed for breastfeeding to amaze the parents you are assisting.

$25.00 – $39.95Select options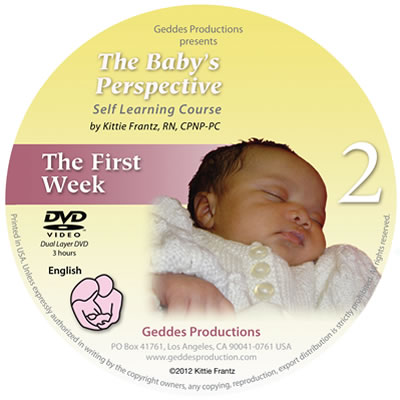 The Baby's Perspective – The First Week
In Module Two (of three) - The First Week of The Baby's Perspective Series by Kittie Frantz, RN, CPNP-PC you learn how baby's rhythms differ in the first 24 hours; to the second 24 hours; and on during the first week.  This helps parents understand how the baby brings in and sets up the milk supply.  Helping mom to rest without changing baby's rhythms by encouraging mom to breastfeed the baby instead of focusing on getting baby to sleep long periods.  This will protect the vulnerable baby from illness if exposed to eager visitors while supporting mom's social needs.  Learn the science from Kittie and the "how to" from the expert caregivers in the class!

$25.00 – $39.95Select options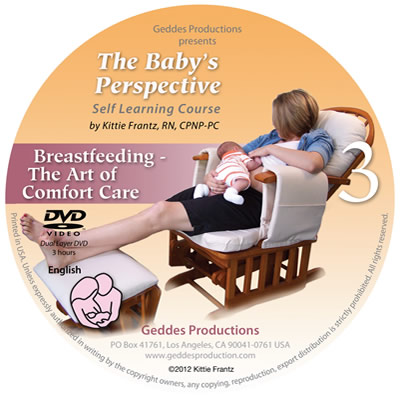 The Baby's Perspective – Breastfeeding – The Art of Comfort Care
The Baby's Perspective series by Kittie Frantz, RN, CPNP-PC The Art of Comfort Care is Module three of (currently) three films.  After negotiating the maze of controversies of attachment, watch in this film the class demonstrating through fun role play, ways to make mother and baby comfortable for breastfeeding success.  Learn baby-led & laid-back attachment in depth as well as side-lying in bed and alternative holds.  Listen to suggestions on how to diplomatically change what isn't working for the mother and finding the RIGHT nursing place in her home that works for her.

$25.00 – $39.95Select options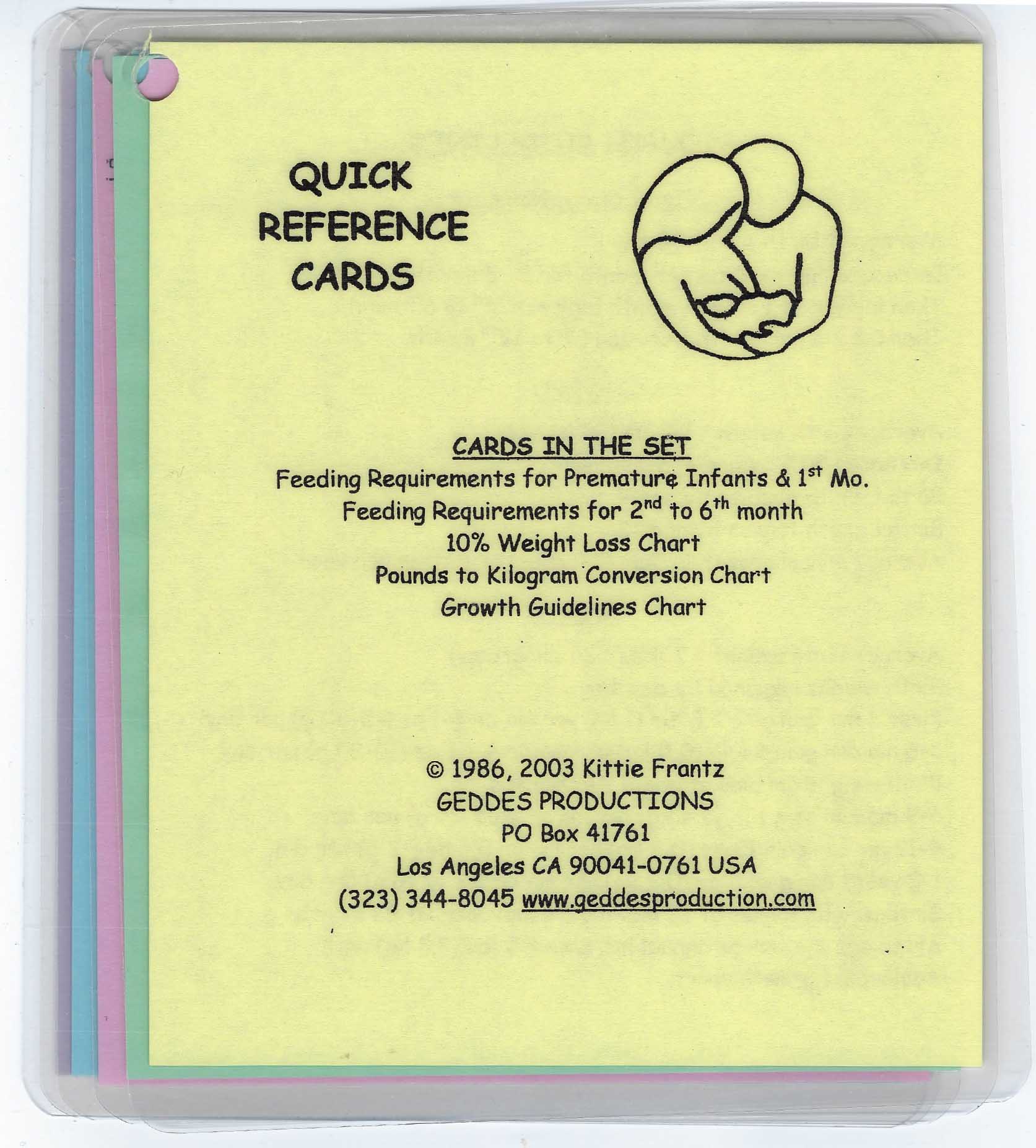 Infant Quick Reference Cards
These five laminated 3" by 5"pocket-size cards are ideal for quick reference in infant feeding. Dietitians love them! Lactation Consultants can use these in assisting working women as to how much to pump to leave for baby the next day. Subtracting how much milk baby took from the feeding tube device at the breast from the calculated daily intake can be used to measure how much baby is likely getting from the breast to encourage mom's progress.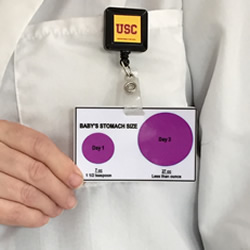 Stomach Size Badge Attachments
Want that perfect addition to your work badge? These Stomach Size Badge attachments, just under 3 1/2" by 2 1/4", are great for anyone helping Mom with lactation in the first three days. Made of thick plastic, these badge cards aren't a flimsy laminate.  They will last forever. Clearly showing Baby's actual stomach breast milk capacity on day one and day three you can reassure parents they don't need to supplement their breastfeeding or over feed the formula fed infant.

$5.00 – $700.00Select options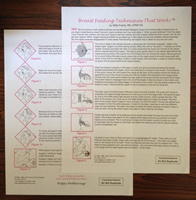 English Language Tear-Off Sheets
Great Handouts to reinforce your attachment teaching when mother is discharged. Nursing or home-care students can always use it to reinforce their learning about baby-led and laid-back breastfeeding.
Your institution can print their own with a one time License fee and a signed License Agreement.
License fee $50.00
Please read, fill out & email
this License Agreement
to
orders@geddesproduction.com
.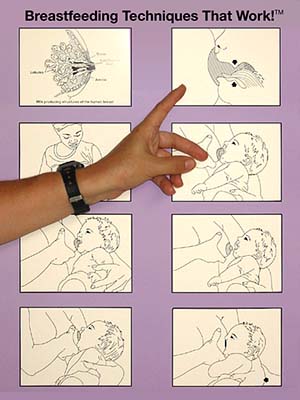 Teaching Wall Art Poster
Containing eight of the twelve black & white drawings matted in purple. Suitable for framing so the mother can see it from her hospital bed or your desk. You can point to is as you teach and she can see it for future reference after you leave the room.